It's sad, but reality is merciless. Last episode of Hayate no Gotoku aired some 4 days ago and it is the end. No more Hina-chan and others. No more funny gags that some people find stupid. No more misfortune of the dept-ridden, luck lacking combat butler… But I hope there will be another season.
In short, the last episode was about Nagi being sick. She was in bed almost the whole time, but that didn't matter at all, because a lot of things happened.
One thing I realized was that there was few scenes with Klaus in this season. I quite miss him. After all, he was also a very funny character and somewhat unique. You never knew what to expect of him, and he made kind of a good combination with Hayate. So, I hope there will be some "Klaus action" again in some third season.
Hayate and Nagi were alone in the mansion. Just the two of them. That's the reason Nagi blushed that much, having wrong expectations of what Hayate might do (to her).
Nagi had been told by Mom that men are wolves in sheep's clothes. Seriously, when exactly did she told her that thing? I mean, how old was Nagi then? Three, four?
Nagi couldn't fall asleep, so she wanted Hayate to do something to make her feel sleepy. And Hayate presented her his Miku Dance lullaby video. I would never expect something like that, but Miku had made it into a few anime series before, after all. So when it comes to Hayate no Gotoku, it is only natural that they used Miku, too.
Should you wonder how Alice in the Wonderland ended, remember this one thing. Alice (read Hina), having defeated all the card soldiers, stood on the top of the land and started a new kingdom, which she called the United States of Japan. And, of course, lived happily ever after.
Nagi didn't like this ending at all. That's why Hayate came up with an ultimate punch line: "Look forward to next week."
It wouldn't be an anime if Pxcky or Rocky, or however they will call it, didn't make its appearance XD
Nagi wanted Hayate to get her a packet of Packy. But there is one thing for sure. When Hayate really needs something, he really won't get it. Perhaps everyone in the town got a sudden urge to eat Packy, and it sold out everywhere. Or as Nagi said: "I bet Packy's extinct."
Hinagiku feeded Hayate a stick of Packy, which made Nagi extremely angry. Yeah, I forgot to mention. Nagi put a camera on Hayate's necktie before he left, so she observed his Packy buying adventure together with Maria.
Hayate resorted to the only solution left and made a packet of Packy himself. However, he got hit by a truck right before the gate to the Sanzenin residence, and only one stick of Packy survived. Of course, Hayate was unhurt, because he was holding a ball and used it as an impact absorber. A piece of cake, isn't it? Isn't it?!
Flags hanging from the Packy stick. Okay, it's obvious there had to be the Japanese flag, and it's no surprise there was the American flag, too. But what, what the hell the flag of my country was doing there?! O_o And even on the first place, if you take that the first one is the nearest one to the stick. I can think of one reason, though. But it is probably just a coincidence. Actually, the head butler Klaus looks like our president, whose name happens to be Václav Klaus. He looks a bit different now, but some 15 years ago he looked very similar to Klaus from Hayate no Gotoku. Just see the photo below. I'd really like to know if it's just a coincidence, or the author intentionally made Klaus to be a parallel of Václav Klaus.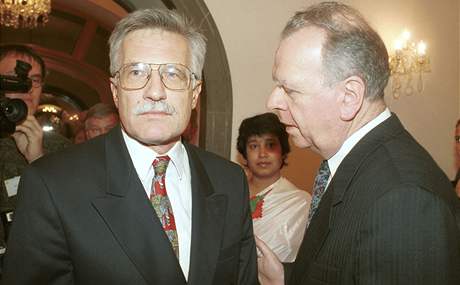 Is this the new character that was to appear in the last episode? I think yes. It must be her. That childhood friend of Hayate. Okay, she did appear, but only on the last threeseconds of the episode. That's one hack of a cliffhanger.